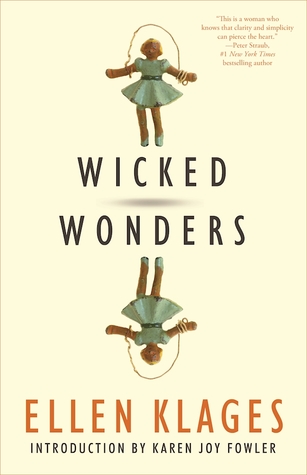 (Cover image via Goodreads)
Goodreads Rating: 3.5 stars, rounded up to 4
NetGalley Rating: 5 stars
In a nutshell: A mixture of heartbreaking magical melancholy, vintage nostalgia, and forlorn near-futurism.
I saw this in one of io9's upcoming release posts, and the stories that were highlighted sounded interesting enough for me to add it to my to-read list. When I saw that NetGalley had a copy, I figured I'd give it a shot, even though I'm not really much of a short story person.
I'm very glad I had the opportunity to read this, though. While there were many stories that were just "okay" or that fell flat for me, the ones that I loved, I absolutely LOVED. Klages has a way with the zeitgeist and atmosphere of the 50s and 60s; even though I did not live through those decades, I felt immediately transported back to that time period. It made me appreciate even more the social conventions that the characters in some of these stories break, and it made the magical stories even more amazing. Klages' brief Story Notes in the back were also highly enjoyable and they gave a more down-to-earth element to the stories.
Looking over my individual story ratings, I was most drawn to the magical realism stories–most of these reminded me, whether slightly or substantially, of Cat Valente's Fairyland series. Her style is one of my absolute favorites right now, and I loved getting that vibe from another author, who explores the more day-to-day magical realism, rather than the epic questing type.
Here are some brief reviews and reflections on my favorite 5 & 4 stars stories.
5 stars
Singing on a Star: This one was amazing–it had the right amount of mysterious magical realism and honest to goodness creepiness. I got lots of The Shining vibes from this, and the mystery that it leaves open at the end lends itself to many different paths of analysis.
Echoes of Aurora: Beautifully melancholic, yet very sweet. It actually made me a bit guilty for liking autumn as much as I do.
Friday Night at St. Cecilia's: This was a bit silly, but it was also amazing. It reminded me of Wonderland, but in a slightly more updated sense. Klages also somehow made it possible for Monopoly to seem creepy.
4 stars
The Education of a Witch: I could definitely relate to this one in a way. I love villains as much as I love the heroes of a story, and I'm always disappointed when their backstories aren't elaborated upon. Klages highlights how the villain's powers are appealing to a young girl, one who knows that these powers are wrong, but still doesn't exactly understand that society doesn't really approve of villain sympathy.
Hey, Presto!: Magic is something very difficult to write convincingly and have it come across as properly magical and creepy, rather than just fancy, pompous showing off. Perhaps it's because this all took place behind the scenes, but this was incredibly well written, and came across with the aura that I love all my magic stories to have. Plus, a strong, snarky female lead who saves the day.
Caligo Lane: The immediate comparison I drew here was to Mr. Map, the character in the Fairyland novels. The same secluded map-making vibe permeates this story, and the addition of origami and the hopeful-yet-sad ending made it even more captivating. Franny is a captivating character, and I'd love to read more about her in Passing Strange.
Gone to the Library: The ending on this one seemed a bit abrupt, but the weaving of history and lit and math was lovely. The cameo by Grade Hopper was awesome, especially since the math story line revolved around the type of math I like (even if I don't fully understand)–paradoxical, imaginary, mind-baffling stuff. The additional of mysticism and very strong Secret Garden vibes gave it a mysterious, slightly unsettling undertone.
3 stars:
Amicae Aeternum, Sponda the Suet Girl, & Woodsmoke
2 stars:
Mrs. Zeno's Paradox, Goodnight Moons, Household Management, & The Scary Ham
I had never read any of Klages' works before this, but I'm now definitely intrigued to read more of her works; the recent Passing Strange is now high on my to read list.
Again, I'm very glad I read this, and will be rereading a few of my favorite stories again soon–the aesthetic is memorably fantastic.
Thank you to NetGalley for providing me with a free copy to review!